This week has been abuzz with rugby conversation as we see a continuation of schools rugby fixtures, our DHL WP Rugby sides in action some clubs offering on-field activities, and more development for women's rugby.
With the recent announcements by SA Rugby on the resumption of school rugby activities, we're happy to see that some of our schools have arranged and already played some fixtures. These fixtures are a welcome factor to the world of rugby as 2020 delivered a tremendous blow for school sport. Losing the school season due to COVID in 2020 in effect meant that an entire age group of participation and development was lost. We're now happy to say that these players are back on the park and will hopefully once again feed our club and university structures.
The objective to grow and support women's rugby continues to gain momentum and with the several campaigns we are running we see more exposure and opportunity for Women's rugby.

The Women's Collective will return to the online space next week Wednesday as we again bring several of our Women's rugby leaders to the table to help plot the way forward. After the initial launch, the collective will now discuss their first campaign which will see various Women's representatives help with the distribution of books in underprivileged areas as part of the world literacy day program.
Our drive to ensure all clubs have at least one Women's Rugby representative continues and slowly we see more clubs approaching women at their clubs to drive the initiative. These champions have been encouraging Women and Girls in their neighbourhoods to join their clubs to participate in various activities not only with the intention of delivering teams but also other activities such as fitness options, education, and outreach projects.
Our WP Rugby YTC program is on track and our ladies are motivated by the planning and exposure for Women and Girls in Western Province. We continue to support the program through our WP Rugby coaching, referees, and management structures and we trust that this knowledge and experience will continue to enrich and develop our young ladies coming through the ranks.
This weekend sees our DHL WP Rugby senior and U20 sides in action. Our U20 side takes on Eastern Province U20 at De Wet Stadium in Despatch while our senior side travels to Durban to face the Cell C Sharks in the Castle Lager Currie Cup.
We kindly remind all those interested in the World Rugby Level 1 coaching course on 10 September to sign up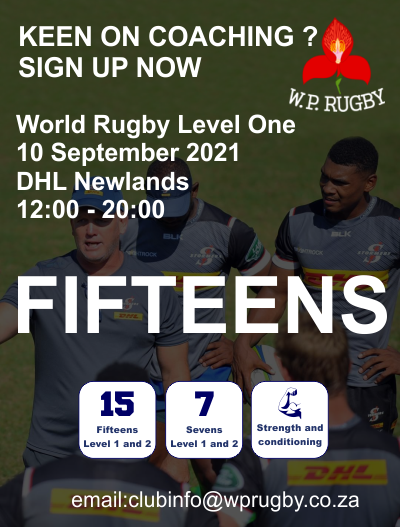 before the end of next week. If you have not yet you still have time to complete your World Rugby Passport and register for the course.  If you are interested, please click here to sign up now. 
This past Monday saw us present a fantastic webinar on Live Streaming. The session included elements to help clubs understand the basics of streaming from their desired locations including options to stream events such as social, education, and training. A large emphasis was placed on pre-planning and testing and using the MMS team at the club which then offers an affordable way to stream.
We are currently in an era where sports administrators need to reinvent their sports offerings to bring value not only to their members but also to the community they serve. As a rugby structure founded on the principles of community sport our members naturally work towards finding solutions for their members. This has seen an increase in alternative activities such as fitness sessions, gym sessions, and other forms of open-air activities.  
We however remind all our members to continue to practice the recommended health and safety protocols.